Phuket is a popular tourist destination in Thailand, known for its beautiful beaches, vibrant nightlife, and rich culture. The largest island in Thailand and providing the highest income to the overall economy. Phuket is the place to be to start a new business, to invest in property or to live life to its fullest.
You are planning to move to Phuket and seeking investment opportunities it better to understand the different regions and top districts in Phuket island. The different neighborhoods and areas to find the perfect location for your needs.
Overview Guide of Phuket Top Districts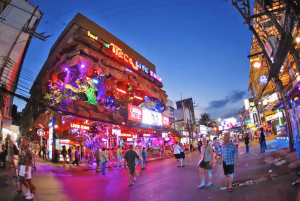 1. Patong
Patong is a must-visit neighborhood in Phuket. It is where you'll find the heart of the island's nightlife, with streets lined with bars, restaurants, and nightclubs. But that's not all Patong has to offer. It also boasts beautiful beaches where you can sunbathe, swim, or try out water sports. And if you're looking to invest in property, Patong is a great choice, as it's one of the most popular neighborhoods on the island.
2. Kata
You're looking for a more peaceful and laid-back neighborhood, Kata is an excellent choice. Kata has a more family-friendly atmosphere and is perfect for couples looking to escape the hustle and bustle of the city. The area boasts a beautiful beach with crystal clear waters and white sand. You'll also find plenty of restaurants serving fresh seafood and local delicacies, as well as a few bars for a nightcap.
3. Karon
Karon is another great option for those seeking a quiet and relaxed neighborhood. The area has a long and wide beach that's perfect for swimming, sunbathing, or just taking a leisurely stroll. Karon also boasts several high-quality restaurants and bars, where you can enjoy the island's cuisine and cocktails.
4. Kamala
For those looking for a peaceful and scenic neighborhood, Kamala is the perfect choice. The area has a beautiful beach that's surrounded by lush greenery, making it an excellent spot for nature lovers. Kamala also has a small village-like atmosphere, with a few restaurants and bars, perfect for a quiet night out.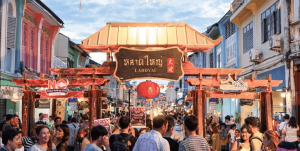 5. Phuket Town
Phuket Town is the administrative center of the island, with a rich history and culture. The area has a mix of old and new architecture, with colorful Sino-Portuguese shop houses, hip cafes, and trendy restaurants. Phuket Town is also home to many cultural attractions, including museums, galleries, and temples.
6. Surin
Surin is a luxury district that has garnered popularity amongst affluent expats and tourists. The area features an alluring beach with transparent turquoise waters and shimmering white sand. Surin is also famous for its extravagant villas and high-end restaurants, where you can relish in the island's finest cuisine and indulge in exotic cocktails.
7. Bang Tao
If you're looking for a quiet and laid-back neighborhood, Bangtao is an excellent choice. The area has a beautiful beach that's perfect for families and retirees looking for a peaceful and relaxing atmosphere. Bangtao is also surrounded by lush greenery, providing a tranquil setting for nature lovers.
A complete neighborhood guide on what are the top 9 activities in Bang Tao, Phuket, check here.
8. Nai Harn
Nai Harn is a peaceful and tranquil neighborhood, ideal for those looking to escape the fast-paced city life. This picturesque location is home to one of the most beautiful beaches on the island, where you can lounge, swim, or take a serene stroll. The lush greenery surrounding the area is an added attraction, making it a perfect destination for nature enthusiasts.
9. Rawai
Rawai is a delightful coastal village that has become a sought-after destination for expats and retirees alike. The village is widely recognized for its fresh and succulent seafood, and an abundance of seafood eateries showcasing the daily catch. Rawai also offers quieter and more tranquil beaches, perfect for those seeking a more relaxed and calm environment to enjoy the sun and the sea.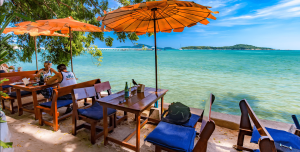 There you have top 9 districts in the largest island of Thailand in Phuket.
In conclusion, Phuket has a diverse range of neighborhoods, each with its own unique charm and character. Whether you're seeking a peaceful retreat, an upscale environment, or a vibrant city center, you're sure to find a neighborhood that suits your lifestyle and preferences. So why not explore the neighborhoods of Phuket and find your perfect home in paradise?
You are ready to purchase properties in Phuket in those 9 districts. Check out the hottest Phuket property under 7 million USD here.