Retiring in Phuket, Thailand is an exciting opportunity for retirees seeking an ideal destination for your next phrase in life. Apart from its stunning beaches and tropical climate, it offers an affordable cost of living, excellent healthcare and a vibrant lifestyle that ensures a fulfilling retirement experience.
Uncover why Phuket is the best place to spend your retirement. Explore Phuket island's low cost of living, first-rate healthcare, active lifestyle and lively culture. After reading this article you will have a thorough grasp of why retiring in Phuket is a wise choice to enjoy the next chapter of your life to the fullest.
Phuket Low Cost of Living
Phuket's affordable cost of living is another reason why it is a popular retirement destination. Retirees can enjoy lower housing costs, with a one-bedroom apartment costing as little as $300 per month. Even properties for sale in Phuket are relatively low compared to other parts of Southeast Asia. With a 3-bedroom apartment with a beach view starting at $700 USD, Phuket is the ideal place to live a stress-free life.
Even if you're searching for beachfront homes for sale in Phuket. Phuket real estate is affordable when compared to other Southeast Asian countries. The cost of a three-bedroom apartment with a beach view is from $700 to $800 USD.
Alternatively invest $300k to $400k for a three-bedroom townhouse in Laguna Park with an own garden area. Phuket is the location to enjoy the next phase of life while living stress-free because of lower interest rates and reduced pricing.
World-Class Healthcare
In terms of healthcare, Phuket offers excellent medical facilities and hospitals such as Bangkok Hospital that provide high-quality care at a much lower cost than in the West. Many medical professionals in Phuket are fluent in English, and hospitals are equipped with modern technology. Thailand is ranked sixth safest country globally out of 195 countries present, making it a safe and secure location for retirees according to recent studies.
Phuket offers a wide variety of clinics and alternative medicine practitioners, including acupuncturists and herbalists, if you're looking for more reasonably priced healthcare solutions. For retirees on a tight budget, these solutions can be far less expensive than conventional Western medical procedures.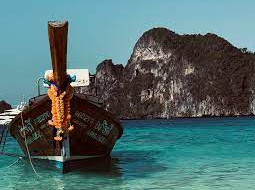 Vibrant Lifestyle and Culture in Phuket
Phuket's lifestyle and culture are other reasons why it is a top destination for retirees. The island boasts a range of international restaurants, shopping centers, and entertainment options. It is also rich in history and culture, with museums, art galleries, and temples to explore. Retirees can enjoy outdoor activities such as swimming, snorkeling, and golfing all year round.
Phuket offers a variety of beaches, from the lively and entertaining Patong beach to the serene and beautiful Bang Tao beach. Everyone can choose from a variety of lifestyles in Phuket.
Phuket is also rich in culture and history, with a variety of temples, museums, and art galleries to visit. At Big Buddha, the highest point in Phuket, you'll find one of the biggest temples. From oura great insights and comprehensive guide, see here for a list of 23 places to enjoy yourself in Phuket. Because of the island's stunning beaches and tropical climate, retirees can engage in outdoor pursuits like swimming, snorkeling, and golfing all year long.
Bottom Line
In conclusion, retiring in Phuket is an excellent option for those looking to retire abroad. With its stunning beaches, low cost of living, excellent healthcare facilities, and vibrant lifestyle and culture, it is no wonder Phuket is considered the top destination to retire in 2023.