Today's update comes to us courtesy of PropertyGuru Property Report Magazine Issue 151: "2018: the year in secondary property markets". We hear some summaries and wrap-ups from analysts and experts about secondary markets' growth in 2018 Southeast Asia, thanks heavily to foreign investments.
Markets in Philippines are doing nicely. Davao City, former home to the President when he was mayor, has been an unlikely success story with prices skyrocketing as available land is developed. Current developers would do well to look to locations like Laguna, Cebu and Pampanga, as offshore gaming is starting up, normally a correlative draw with Chinese investment.
In Cambodia, Poipet also has a history with casinos – currently around 30 plus a burgeoning manufacturing industry. A border town with Thailand formerly known for getting scammed or ripped off, a recent upgrade to a position on the rail line from Bangkok to Phnom Penh has given Poipet a well-needed boost, not just in development & investments, but in reputation as well. Sihanoukville on the southern coast remains a viable alternative to the Phnom Penh market bolstered by Chinese investors looking for quick contracts and more respectable rental yields. Projects like Seagate Suite by KHCN Investment and Development Co., Ltd have certainly done their part to help transform the Cambodian markets.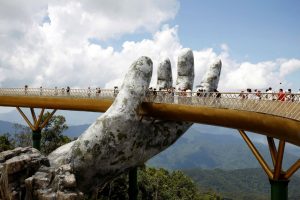 Da Nang, Vietnam is a fun outlier, partially attributed to the Golden Bridge (as seen above) enjoying some social media virality. Tourism remains a strong base for the city with developers relying more heavily on resorts and managed contotel/villas rather than residential units.
Finally we wrap up with what you came for, your Phuket, Thailand update. Unfortunately, those speaking on the record left it at an acceptable steadyish level of growth in 2018 but nothing spectacular, owing in part to Phuket 2020 and the Smart City / Hub plans beginning to come to fruition. However, industry gamechangers like FazWaz Property Group have reported very interesting numbers for the latter half of 2018.
Overall PPW is going to predict a flashy yet substantial 2019, for what it's worth.