As the world becomes increasingly digitized, it's no surprise that the real estate industry is following suit. In Phuket, Thailand, tech-savvy homebuyers can now experience luxury villa viewings from the comfort of their own homes through cutting-edge technology.
Gone are the days of tedious property visits and wasted time. With virtual villa viewings, buyers can enjoy an immersive, 360-degree tour of their dream properties and explore every inch of the space. This innovative approach to real estate is revolutionizing the industry and attracting buyers from all over the world.
In the world where everything is becoming digitalize, property sellers are using smartphone to enhance their property viewing. World of real estate is changing and slowly moving towards digilization. You should to as homebuyers have major benefits of why virtual real estate is the next big thing in the property sector.
Benefits of Virtual Real Estate
One key benefits of virtual villa viewings is the ability to save time and money. Buyers no longer need to travel to Phuket to view properties, which can be especially challenging during the pandemic. Or not all countries have property lift travel restrictions yet. With virtual tours, they can explore the property at their leisure, from anywhere in the world. This approach also allows for greater flexibility in scheduling and streamline the buying process. You as homebuyers do not have the pressure and stress of looking at different properties. From the comfort for your own home you can be relax and view your Phuket properties to buy.
Another advantage is the level of detail and personalization offered by virtual villa viewings. Buyers can zoom in on specific features, such as the pool or the kitchen, and get a real sense of the space. They can also ask questions in real-time and receive immediate answers from the agent or seller.
Convenience: No longer you need to travel to 5 properties in one day. Getting tired by the end of the day and do not want to make a decision on a whim. With 3D virtual real estate you save time, effort and money making it easier to explore more properties within a shorter time in the comfort for you own home.
Personalization: Virtual tours allow buyers to customize their viewing experience, zooming in on specific features and exploring the property at their own pace. This level of personalization allows for a more immersive experience that helps buyers to better visualize themselves living in the property. Instead for getting 40 properties you do not want, you can personalize your property type to match your wants and needs.
Flexibility: With virtual tours, you as a homebuyer have greater flexibility in scheduling viewings, which can be especially helpful for foreign buyers who may be in different time zones. This approach also allows for more streamlined communication between buyers and sellers, which can help to speed up the buying process.
To check out the hottest deals in Phuket, here is a full guide of Phuket properties under 7 million USD.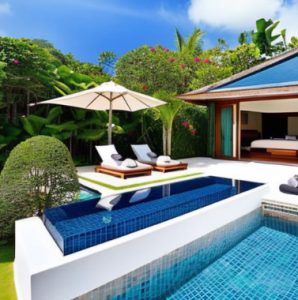 Drawbacks of Virtual Real Estate
Despite the many benefits of virtual villa viewings, some buyers may still prefer traditional in-person visits. However, as technology continues to evolve and improve, virtual tours are likely to become even more popular and advanced.
Limited sensory experience: Although virtual tours provide a 360-degree view of the property, they don't allow buyers to touch or smell the property. This may be a disadvantage for buyers who want to get a sense of the property's texture or scent.
Difficulty in gauging scale: Virtual tours can sometimes make it difficult to gauge the size and scale of a property. Buyers may struggle to get a sense of the property's true size and layout, which can be especially challenging for larger properties.
Lack of spontaneity: Virtual tours lack the spontaneity of in-person viewings, where buyers can easily pivot to explore different areas of the property based on their interests.
In conclusion, virtual villa viewings are a game-changer for the real estate industry in Phuket and beyond. This innovative approach to home buying offers convenience, flexibility, and personalization like never before. Whether you're a local or a foreign buyer, virtual villa viewings are a must-try for anyone in search of their dream home.
You're interested in exploring villas in Phuket, start your search today. Take advantage of the latest technology to find the property of your dreams. With a wide range of properties available, there's never been a better time to start your villa search.