Hi and Happy Friday from Phuket Property Watch! Today's first story comes from a PRWeb press release about Juwai.com's outreach efforts toward the burgeoning aging population in China; according to Carrie Law, Juwai CEO, "there will be 340 million Chinese aged 60 or above" within just over a decade. In addition to this growing group you can add on those majority of Chinese investors who are planning in their 50s and 40s as well. In order to help mitigate any concerns potential buyers might have, Juwai has been launching a plethora of new informative subdomain sister-sites in the areas of investment, retirement/lifestyle, commercial property, emigration/immigration and education. With specific details on the requirements for a retirement visa plus a sense of what it might be like to live there and more, users bouncing through Juwai's web will be sure to feel a greater sense of trust and be more likely to purchase. Up-and-comers like FazWaz.com and Bangkok Biz News Property, who look a lot like the western megaportals, would do well to remember how powerful the element of trust is to a new client.
We finish off the week without any Phuket-targeted news, and apologies to our local friends and readers. An exciting story nonetheless, coming from The Nation News about a new building technology currently being phased in by Shinwa Real Estate (Thailand) Co Ltd. The technology, called simply Runesu, is a building design that allows for a modular floor, hiding a mini "basement" (up to 60cm tall) inside each and every condo unit in a development.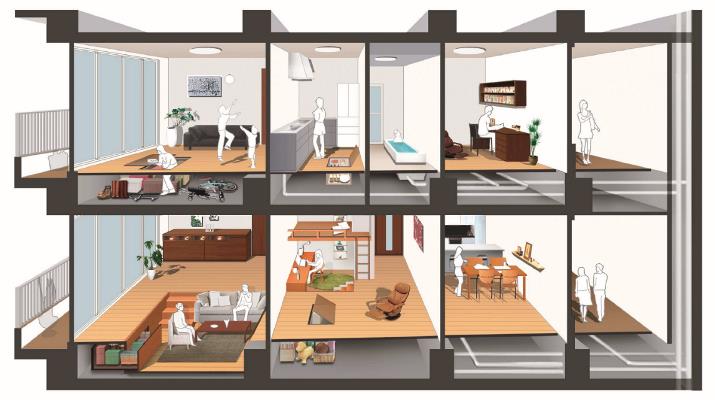 As exhibited in this promotional mockup, there are an endless amounts of lifestyle configurations to choose from or create, some more pleasing than others to our inner pillow fort-loving child. Shinwa Thailand under direction of Tomoyasu Yamabe, plans to roll Runesu projects out in Thailand to start generating interest across ASEAN. Considering they have a 2019-2020 Thailand investment budget up to THB 8 billion and an M&A budget of THB 500 million to help extend the construction arm of the business, this should be a clear win and it's starting to show. Projects like Ren Sukhumvit 39 and two additional low-rise developments being planned (near mass transit lines again) will be Shinwa's market proof of concept to appeal to expansion efforts in Singapore and Malaysia in 2019 followed by Hong Kong, Taiwan and the Philippines in 2020. Yamabe shared the company's view that the Thailand property markets will continue growing both in the short and long term.